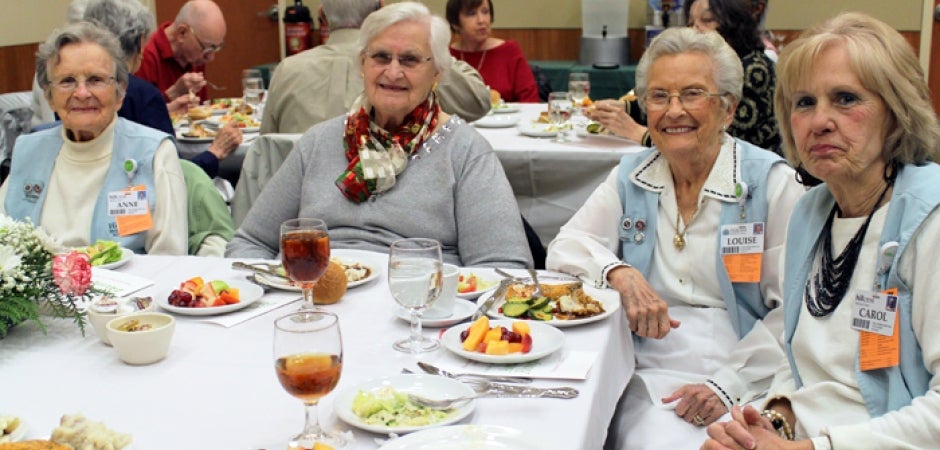 Who are we?
We are wonderful citizens of all ages, from teens through golden oldies. We are a few tough guys and many sweetheart women from all walks of life. We number about 30 active members. We are here just because we want to be a part of something good and because we have found that in giving, we receive!
What do we do?
Our active Volunteers contribute from 4 – 10 hours per week and they meet once a quarter for a combined luncheon and meeting.  Their tasty lunch is prepared by our own dietary department. Our Volunteers are willing to assist in any area of the hospital – not to replace employees, but to help them do a better job and to help make life a little easier for patients, visitors and employees.
Our Volunteers contribute financially to Hillcrest Pryor by generously giving dollars, through fund raisers, to help fund much needed minor equipment that is needed for our hospital.
Information Desk Volunteers escort patients and visitors to and from all parts of the hospital, answer telephones, stuff and label envelopes, distribute mail from department to department , deliver flowers, cards, balloons, and hand out color books and crayons to young children, etc. The Volunteers also help out with the Red Cross community blood drives throughout the year.
Our active Volunteers give approximately 6,100 hours of unpaid service to Hillcrest Pryor each year.
When are we here?
Monday – Friday from 7am to 4pm
Are you interested in volunteering at Hillcrest Pryor?
Please contact our Volunteer office at 918.824.7786.  The Director of Volunteers, who reports directly to the hospital CEO, will be more than happy to tell you about it and help you join our team!