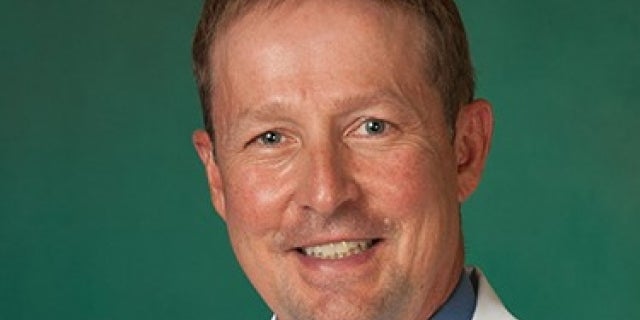 (March 30 is National Doctors' Day. Hillcrest Hospital Pryor would like to thank all of our physicians for the dedication and passion they show for their patients. In honor of National Doctors' Day, we would like to spotlight wound care specialist James Beebe, M.D.)
As the son of a construction worker and a stay-at-home mother, Dr. James Beebe grew up wanting to make a difference in the lives of others.
"At a certain point, I started asking myself where do I see myself in 10-20 years?" Dr. Beebe said. "I finally decided I wanted to be in an area that would directly impact someone's life."
Eighteen years ago, the Illinois native journeyed to Oklahoma. Today, Dr. Beebe specializes in advanced wound care at Utica Park Clinic for Hillcrest Hospital Pryor. It's a professional and personal decision Dr. Beebe continues to enjoy.
"There is a high need for wound care," Dr. Beebe said. "It's an underserviced area. The reward is in and of itself, to know you can heal a wound. You can see the actual physical results of your work."
Dr. Beebe joined Utica Park Clinic at Hillcrest Pryor in September 2020. Having previously worked in Muskogee following his residency, Dr. Beebe said he has enjoyed the Pryor community atmosphere.
"I really enjoy working in a small town in Oklahoma," Dr. Beebe said. "I think it's an underserved area."
Dr. Beebe received a Bachelor of Science degree from Western Illinois University in 1990, then obtained a Master of Arts degree from Concordia University in River Forrest, Illinois. He earned a medical degree from Spartan Health and Sciences University in Vioux Fort, West Indies, prior to completing his residency at the University of Oklahoma College of Medicine in 2010. 
Dr. Beebe started out in primary care where he developed a rapport with his patients, something this father of three strives to maintain as a wound care specialist.
"What I enjoy the most is to be able to care for all the generations, from the babies to grandma and grandpa," Dr. Beebe said.
To make an appointment with Dr. Beebe, call 918-824-7901.