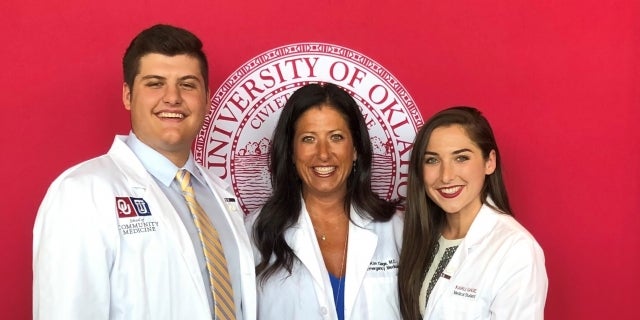 (March 30 is National Doctors' Day. Hillcrest Hospital Pryor would like to thank our physicians for the dedication and passion they show for their patients. In honor of National Doctors' Day, we would like to spotlight emergency medicine specialist, Kim Gage, M.D.)
Kim Gage, M.D., has seen patients in virtually every imaginable condition since she began working in the emergency room in 1999. Gage could tell stories for days about what she's witnessed.
But even for this veteran health care provider, an emergency medicine specialist with Hillcrest Hospital Pryor, the COVID-19 pandemic has represented uncharted territory.
"I love emergency medicine," Gage said. "I've done it for a long time. But this is totally different."
Gage said two elements have significantly impacted the emergency room during the pandemic: larger-than-normal patient loads all the while dealing with staffing shortages.
"We have nine total beds in the Pryor ER and there were times when five of them were being held for patients that were waiting to be transferred," Gage said.
High hospitalization numbers during the peaks of the pandemic meant a longer wait time for ER patients who need more specialized care.
"You have situations where you're holding ventilated patients in the ER for days," Gage said. "You may also have to manage ICU patients in the ER. It's hard for them to not get the care they need. I've sent patients to Colorado, Texas and Kansas, just trying to find beds for them."
That has been the most trying aspect, according to Gage.
"They need a specialist or surgery we don't provide," she said. "Not being able to get them the appropriate care, that's the most difficult thing. We have limits of care conversations with families of patients. We've had to do that recently. You want to inform the patient so they can make the best decision."
Bedside manner during COVID has been both critical and challenging. Many patients have severe symptoms but were prohibited from having family around them during their hospitalization, due to pandemic restrictions.
"Not having the family, we've never had those restrictions," Gage said. "That's hard for them to not have family and loved ones around them."
The pandemic also touched Gage on a personal level. Her husband, Kirk, experienced severe COVID symptoms during the early stages of the virus. Nearly a year since he first tested positive, Gage said he still deals with cardiomyopathy from the disease.
Gage, who has both a son and daughter in medical school, said the pandemic has revealed to her some valuable lessons, both from a professional and personal perspective.
"It's reinforced the importance of peoples' health and it's taught me you have to appreciate the time you have with your loved ones," she said.