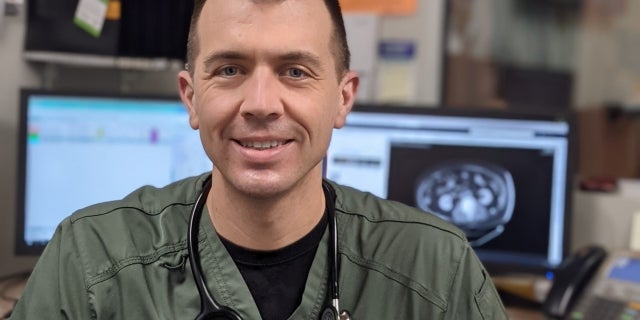 (March 30 is National Doctors' Day. Hillcrest Hospital Pryor would like to thank all of our physicians for their dedication shown over the past year. In honor of National Doctors' Day, we would like to spotlight Derek Knotts, M.D., emergency medicine doctor.)
Just a couple of months after joining Hillcrest Hospital Pryor as the emergency medicine director, Dr. Derek Knotts was thrust into an unprecedented with the first pandemic in his lifetime on the horizon.
And even a year removed from the first patient testing positive for COVID-19, Dr. Knotts still vividly recalled the early days in dealing with the virus.
"Every day was different," Dr. Knotts said. "Taking it from the beginning when there wasn't a lot of information, we didn't know when it was going to hit here or when it was going to be bad."
Entering uncharted territory, Dr. Knotts and the rest of the emergency department prepared before they ever treated their first COVID patient. All staff members adhered to PPE requirements, practiced both social distancing when possible and proper procedures for transporting COVID patients to designated areas in the hospital.
"We had done a mock case before they had a COVID case admitted," Dr. Knotts said. "I think myself and all of our staff, we took it very seriously but were very calm as well."
The biggest adjustment initially, according to Dr. Knotts, was the uncertainty involved in dealing with a novel virus.
"It was the unknown of the appropriate way to treat it," Dr. Knotts said. "There weren't any studies. There weren't any textbooks. You had to go with how we treated other viruses."
Dr. Knotts added, "It kind of changed with how you approached it with patients. Usually, I would just use the CDC or the most up-to-date guidelines. You had to keep up with that day-to-day because the guidelines were changing every day."
One of the many challenges in dealing with the highly contagious virus was its physical toll on staff members. Dr. Knotts recalled several instances where his colleagues had come down with COVID-19.
"We had physicians who developed (COVID) over the course of the past year, so you had to cover other shifts," Dr. Knotts said. "Then that puts the people working longer hours and makes them more vulnerable to coming down with it."
Dr. Knotts said the pandemic has taught him to be cognizant of fatigue and burnout in himself as well.
"The whole pandemic has brought that out in health care workers more than in the past," Dr. Knotts said. "I was able to recognize that in myself early on and prevent it from getting worse."