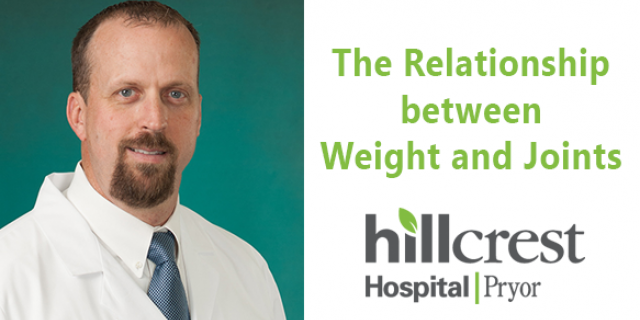 In addition to contributing to health conditions such as heart disease and diabetes, weight can also raise a person's risk for developing osteoarthritis – the most common joint disorder, caused by wear and tear to joints.
According to the Obesity Action Coalition, more than 70% of women and 35% of men who suffer from osteoarthritis of the knee are overweight.
"The impact of body weight on joints is a four-to-one relationship," says orthopedic surgeon Jason Joice, M.D., of Utica Park Clinic in Pryor. "Due to the way the knee is made, whenever you take a step, it multiplies the force at about four times your body weight. That force is transmitted through your knee.
"This highlights how an increase in body weight is not a one-to-one relationship; the weight is multiplied by four which adds increased stress to joints, wearing them out prematurely."
For patients looking to lose weight, Dr. Joice frequently recommends the simple first step of walking more.  
"It depends on a patient's overall age, health and physical fitness level, but a great option is just to walk," he says. "Water aerobics is also a good choice. It provides the added resistance of the water while at the same time, the buoyancy takes some of the stress off of your joints."
An exercise program can not only help with weight maintenance, it can also strengthen joints when executed correctly and safely.
To do so, Dr. Joice recommends weight-bearing activities and resistance.
"There is some evidence that if you keep a joint flexible and strong, it protects the cartilage," Dr. Joice says. "In that way, you're not wearing out the joint – you're actually protecting it."
He also advises consulting a physician before beginning an exercise program.
Dr. Joice's office is located next to Hillcrest Hospital Pryor. To schedule an appointment with Dr. Joice, call 918-824-7712.