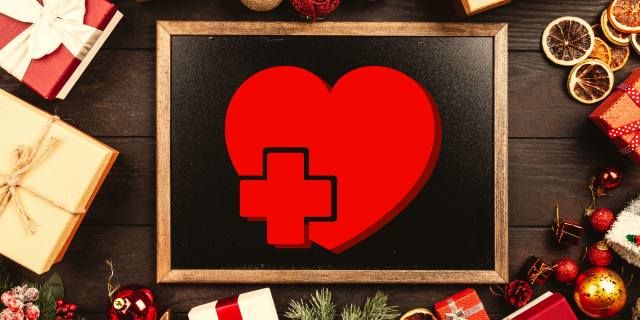 The holidays do not have to be a black hole of health when you abandon all your good habits and wash away all the hard work you put in the rest of the year. You can still eat seasonal favorites, spend time with loved ones and go to parties without letting your health take a hit. Make a plan ahead of time and no know where you shouldn't compromise. Do that and you can come out the other side of the holidays feeling better than you ever have before!
Here are some ways to stay on top of your health this season.
Master Holiday Stress
We can all admit that the holidays can be a stressful time. Your routine is thrown off, there is a long list of tasks, demands from friends and family, budget worries and the pressure to be jolly. While some things are out of your control, you can be master of your own stress level.
Heightened emotions during this time can lead to overindulgence in things like alcohol, caffeine and/or food. Know that it is ok to be emotional during this time. Acknowledge your feelings and find ways that work for you on relieving that negative emotion.
Ideas for combatting stress:
Take some deep breaths. Taking time to relax and connect to your breath, even for a few minutes, can lower your stress level and make you feel more at ease. Bonus Tip: Set alarms throughout your day as a reminder.
Write a list of all your tasks and set priority level. Break it down into hours, days or weeks – whatever works for you. Remember to add in things that are good for you like exercise times, taking a bath or a phone call to a friend.
Setting a budget is a good way to take some of the stress out of this financial burden. Make a list and rank in order of priority. You might find that lower items really aren't all that important after all. 
Spend Quality Time With Your Bed
When planning your holidays you might be thinking that it will be a great time to get some rest. When you are in the thick of visits and preparation though, those plans go right out the door. Make a change this year and prioritize your sleep.
You need to get 7-9 hours of sleep every night to stay healthy. Sleep is a time when your body is restored, so skipping bedtime can have a cumulative negative effect for your whole body. Work hard to stick to a sleep schedule.
Get That Heartrate Up
You might not have access to your normal gym and your schedule might be out of whack, but you should still plan time for exercise. Try something new during this time!
• Find a nice park if you're visiting another town.
• Get your friends together for a kickball game.
• Rope your family into a 5k.
• Try a new exercise class.
• Walk around the neighborhood after every meal.
Whatever you do, just make sure you actually do it. Exercise will help you stay physically healthy and help improve your mood by reducing stress, fighting fatigue and releasing tension.
Be Ahead of the Health Craze in January
Get ahead of the New Year resolutions health curve by seeing a physician before the end of the year. Discuss health goals and how you should best approach them with your physician. You should also get a flu shot while you're in the office. Nothing drags down the holidays like the flu.
You can make this time of year one you look forward to with a bit of prep and focus. Remember to keep both your physical and mental health a top priority throughout the season. Most things you can do yourself, but when you need some help, we are here for you. Click here to make an appointment with a Hillcrest Pryor physician today.